News — UV LCD printers
Posted by John Marello on
Photocentric - Our unique patented 3D LCD printing technology. LCD driven 3D printers have been the most significant invention in Additive Manufacturing in the last 7 years and have become the go to choice for high resolution, low price printing. The concept we invented. Using an LCD screen as a light source, an entire layer is encoded simultaneously, rather than small area by area. LCD printing benefits from one of the greatest technological advances of the last 50 years the use of visual display screens. It can produce much larger volumes than alternative methods, creating new products at rates previously unimaginable....
Tags:

3D printer, 3D printing, 3D printing technology, Additive Manufacturing, LCD 3D printers, LCD Printers, makersgonnamake, photocentric, Photocentric LC Magna, Photocentric LC Opus, Photocentric resin printers, rapid prototyping, resin 3D printers, Resin UV printers, School Makerspace, UV LCD printers
Posted by John Marello on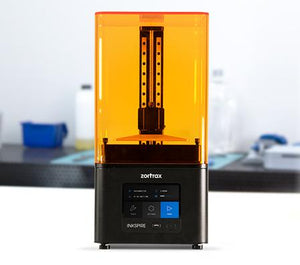 Zortrax Inkspire Resin UV LCD Desktop 3D Printer Key features: ** Zortrax's UV LCD Technology - UV LCD resin 3D printing is up to 8x faster and 9x more precise than SLA 3D printing ** Extreme Precision and Detail - Inkspire's 50 x 50 micron pixel size (XY) and 25 micron minimal layer height means that you can produce 3D printed models with amazing detail, and layers so fine they can't be detected by the naked eye Whether it is for dental applications, castable jewelry designs, prototype 3D printing and more, the Zortrax Inspire can deliver the needed results. Learn...