News — Raise3D N2
Posted by John Marello on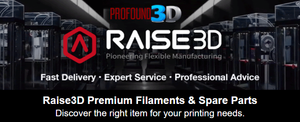 Profound3D offers Raise3D filaments for general, production and special applications. Raise3D E2, N-Series and Pro-Series replacement parts and accessories are in stock and ready to ship. From spare nozzles and replacement build surfaces, to boards and thermocouplers. Shop Online at https://bit.ly/3BKovHw
Tags:

3D filament, 3D printer filament, 3D printers, 3D printing, 3D printing filament, Raise 3D filament, raise3d, Raise3D E2, Raise3D N2, Raise3D N2 Plus, Raise3D Open Filament Program, Raise3D Pro 2, Raise3D Pro2 Plus, Raise3D Replacement Parts, Raise3D Spare Parts, replacement parts, spare parts
Posted by Jeff Coulter on

The OFP No, the OFP is not a rapper [that we are aware of at least - apologies if we missed you!]. The OFP is Raise3D's Open Filament Program. They do all the hard work and heavy lifting to develop profiles for over a hundred different materials. All you have to do is: Purchase the approved material. Import the material profile into ideaMaker. Slice your model using the profile. Print. Learn how to import a material profile here. Find your approved material profile here.
Tags:

Raise 3D, Raise 3D E2, Raise 3D filament, Raise 3D ideaMaker, Raise 3D N2 Plus, Raise 3D printers, Raise 3D Pro 2, Raise 3D Pro 2 Plus, Raise Pro2, Raise PVA filament, raise3d, Raise3D E2, Raise3D E2CF, Raise3D N2, Raise3D N2 Plus, Raise3D Open Filament Program, Raise3D Pro 2, Raise3D Pro2 Plus, Raise3D Pro3, Raise3D Pro3 Plus
Posted by Jeff Coulter on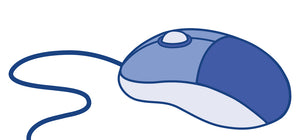 Tech Tip Tech Tip - a continuing series. It's a pretty hefty price to replace the display box on your aging Raise3D N2 or Pro2 system. Sure, you can maybe get by running it remotely on your network, or via the RaiseCloud... But you may not be aware of a trick that can sometimes get you through if your display dies. You can plug in a USB mouse to one of the USB ports and in many cases this can get you through the worst of situations. Contact us if you need some help with this.