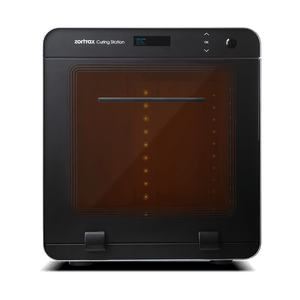 Zortrax Curing Station
Zortrax Curing Station
Zortrax Curing Station is a post-processing device providing additional UV curing of parts made in all resin 3D printing technologies. This additional curing is necessary for most resins to achieve their target mechanical properties.
Essential in resin 3D printing
UV curing is a post-processing step required by nearly all leading resin manufacturers to achieve desired mechanical and thermal properties of their 3D printing materials. To guarantee consistent results it has to be performed in controlled conditions using high-quality equipment like Zortrax Curing Station.
Industrial-class curing chamber
The curing chamber in Zortrax Curing Station ensures all surfaces of a resin 3D model get consistent UV exposure. Its walls are made with 304 stainless steel sheet polished up to the EN 10088-2 2P standard which acts as a mirror, reflecting UV light at all sides of the model. Consistency of exposure is further enhanced by a rotating table on which the parts are placed. This makes the models free of weak spots caused by insufficient UV exposure.
Safety comes first
Zortrax Curing Station has multiple systems ensuring safety of its operators. The post-processing device detects when the curing chamber door is open and immediately turns off UV lamps to prevent harmful UV irradiation. During the curing process all UV radiation is stopped by a filter built in the front glass pane. Finally, a separate system prevents the UV LEDs from overheating.
Wide compatibility
The Zortrax Curing Station is a standalone device that can complement all UV LCD, SLA, or DLP resin 3D printers available on the market. It has a large workspace that enables curing 3D prints of significant size made on industrial machines. There aren't any design or software features that lock a user into one particular 3D printing ecosystem.
---
We Also Recommend
QUESTIONS & ANSWERS
Have a Question?
Be the first to ask a question about this.
Ask a Question