News — Post Cure Chamber
Posted by John Marello on
CUREbox UV Post-Curing Chamber for Resin 3D Prints The CUREbox by Wicked Engineering takes your resin #3Dprinting workstation to the next level. It is a UV Post-Curing Chamber that truly understands the importance of post-curing. This product makes post-curing a smooth experience, with its easy-to-use interface, and specific wavelength controls for a properly cured #3Dprint. Whether you're an engineer, dentist, jeweler, or just a perfectionist, this chamber fulfills any and all demands. FEATURES: Touchscreen UI Status Indicators for Heat, Lamps, and Door Large Chamber Laboratory Grade Construction International Power Compatible One-Touch Presets Customizable Settings Timer Control (5 Minutes - 12...
Posted by John Marello on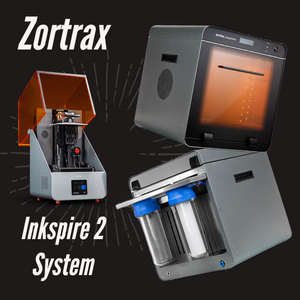 Zortrax has launched the Inkspire 2 refined resin 3D printing and post-processing system – consisting of an industrial-grade UV LCD 3D printer, and two post-processing devices – the Zortrax Cleaning Station, and Zortrax Curing Station. Inkspire 2 is accompanied by the company's automated ecosystem for professional post-processing – the Zortrax Cleaning Station. The station's main purpose is to remove excess resin from the models' surfaces, and hard-to-reach places, whereas the Zortrax Curing Station provides crucial UV curing once the 3D printed resin parts have been cleaned. Cleaning the prints is necessary to preserve the models' dimensional accuracy, and additional UV...
Posted by John Marello on
NEW AT PROFOUND3D! CUREBOX - UV POST-CURE CHAMBER WITH TEMPERATURE CONTROL Those who demand the most from their 3D printed parts understand the importance of post-curing. Properly cured 3D printed parts have mechanical properties far superior to those that are improperly cured. Proper post-curing requires precision equipment with a specific wavelength and intensity light source, time control, and temperature control. Anything less is just not good enough. Learn more about the Curebox UV Post-Curing Chamber at https://bit.ly/2DPSEwC   Download Curebox Data Sheet