News — Halloween
Posted by John Marello on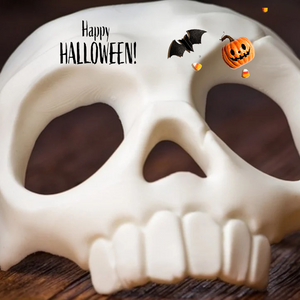 It's never to early to pick your Halloween costume. Check out the best 3D printed Halloween costume props and accessories at ALL3DP!! Halloween is here again and to help, ALL3DP has gathered projects for 3D printing masks, props, and accessories to help you make an impressive costume!Even though when you trick-or-treat you ultimately want candy, the tricking is also part of the fun. Sometimes you want to go in a cute or funny costume, but most times, you just want to be able to give people a good scare and then have a laugh about it. Check out the 3D...
Posted by John Marello on
The Best 3D-Printed Masks for Halloween Halloween is celebrated worldwide by children, horror fans, and everyone in-between. As the big day creeps closer, 3D Natives decided to take a look at how #3Dprinting could help you put together your best Halloween costume. They found some of the most popular 3D printing files for #Halloween masks that can be found on the Cults STL file marketplace. Check out the list and make sure to download your favorites just in time for a trick or a treat. https://bit.ly/3E78iha
Posted by John Marello on
Happy Halloween from Profound 3D!! Visit our online store today to take advantage of our Spooky Good Deals on #3Dprinters, #3Dfilament and #3DAccessories. Also, don't forget to check out the Goblin Good Deals on our Open Box 3D printers!!