News — Sketch classroom bundle
Posted by John Marello on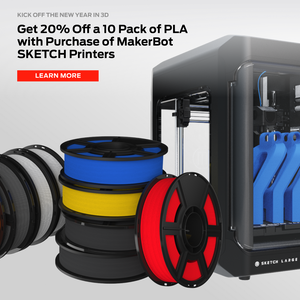 Kick the new year off in 3D with a 3D printer Starter Bundle that gets you set for the rest of the year. Bring 3D printing to the classroom and make abstract ideas tangible, curriculum more engaging to students, and help put your students' ideas out in the world. This new year we want to give you the best start to 3D printing with enough filament, student curriculum and printer training to get you from 0 to 100 in the classroom. Purchase the MakerBot SKETCH Classroom Bundle and get everything you need to kick off 3D printing successfully. For a...
Posted by John Marello on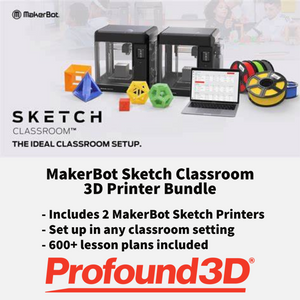 MakerBot Sketch Classroom 3D Printer Bundle The MakerBot Sketch Classroom bundle includes everything teachers need to integrate 3D Printing into a STEAM education curriculum. The bundle features a dual-printer setup, reliable tinker-free performance, and comes with ISTE-certified 3D printer training and access to a full set of interactive content, projects, quizzes, and exams. WHAT'S INCLUDED: (2) MakerBot Sketch Printers (6) Spools of MakerBot Sketch PLA (4) Build Plates (2) Spatulas (2) Snips (2) Seats in Teacher Certifications (10) Seats in Student Certifications MakerBot Cloud with Print Queuing 1-year standard warranty Learn more at https://bit.ly/3OlLJf2
Posted by John Marello on
5 Free Teacher Training Seats with Purchase of MakerBot SKETCH Classroom 3D Printer Package Save $495 on 3D Printer Training for your School. Get FREE 3D printer training for 5 teachers when you purchase a SKETCH Classroom 3D printer package - get training, guidance and the how-to's to 3D printing with your new printers today. Expires on February 18, 2022. MAKERBOT TEACHER CERTIFICATION ONLINE COURSE DETAILS The MakerBot Certification Program - OnlineThe most comprehensive 3D printing certification program for educators. Learn how to setup and run your 3D printer successfully in the classroom as a MakerBot Operator. Then gain the...