News — Dental models
Posted by John Marello on
RAYDENT SURGICAL GUIDE RESIN - 3D PRINTING RESIN FOR ZORTRAX INKSPIRE - 1000ML CRYSTAL-CLEAR RESIN FEATURING CLASS I BIOCOMPATIBILITY, IDEAL FOR 3D PRINTING PRECISE DENTAL SURGICAL GUIDES WITH ZORTRAX INKSPIRE IN STOCK AND READY TO SHIP FROM PROFOUND3D, https://bit.ly/2H21Hfy
Posted by Jeff Coulter on
IN STOCK - INKSPIRE AND RESINS! We just got a shipment of Zortrax Inkspire SLA printers and resins. You will be *VERY* impressed by the prints the Zortrax Inkspire produces. Get your own Inkspire here. Get your Inkspire Resins here.
Posted by John Marello on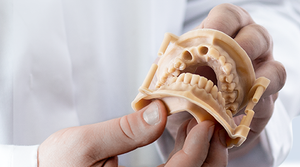 3D printing is set to replace traditional dental modeling techniques in the near future. Digital dentistry is faster, less burdensome for the patient, and inherently more precise. What makes Zortrax Inkspire a perfect dental 3D printer? Zortrax Inkspire is a resin UV LCD 3D printer using a high resolution LCD screen with UV backlighting to build precise models by solidifying photopolymer resins layer by layer. It can 3D print up to 8x more ortho models than a leading dental SLA 3D printer with no adverse effect on quality. The models can be also up to 9x more precise. Zortrax Inkspire...