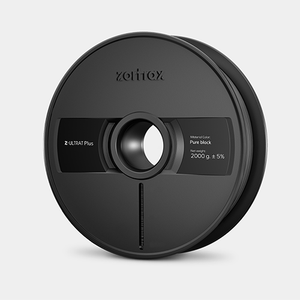 Zortrax Z-ULTRAT Plus 3D Printer Filament - 2kg Spool for M300 Dual - 1.75mm
Z-ULTRAT Plus is enhanced ABS material, designed for durability and dual extrusion with Z-SUPPORT Plus, a high-temperature PVA support filament
Z-ULTRAT Plus 3D printer filament is an ABS-based plastic blend unique to Zortrax Ecosystem, designed for use with the M300 Dual's LPD Plus technology to reliably achieve properties found in items manufactured using injection molding technology. Like Z-ULTRAT, Zortrax engineered Z-ULTRAT Plus for durability and excellent surface quality, but unlike regular Z-ULTRAT, Z-ULTRAT Plus is ideal for use with water soluble Z-SUPPORT material.  Z-ULTRAT Plus material is ideal for projects that require dissolvable supports, like high-quality end-use parts, complex moving mechanisms, and models with intricate details or complex geometry.  Models 3D printed with Z-ULTRAT Plus have higher impact resistance and better layer adhesion than those made of standard ABS.
Z-ULTRAT Plus features:
High durability - Z-ULTRAT Plus is an impact resistant material that is resistant to high temperatures and features outstanding hardness, making it ideal for 3D printing prototypes for testing in the field.
High-detail 3D printing - Z-ULTRAT Plus is a fantastic choice for printing small, complex mechanisms with moving parts, due to its dimensional accuracy and excellent surface quality.
Ideal for dual extrusion - Z-ULTRAT Plus works with water soluble Z-SUPPORT filament on the M300 Dual 3D printer, allowing you to easily complete the most challenging 3D printing projects
Zortrax Z-ULTRAT Plus Technical Data Sheet
---
We Also Recommend
QUESTIONS & ANSWERS
Have a Question?
Be the first to ask a question about this.
Ask a Question