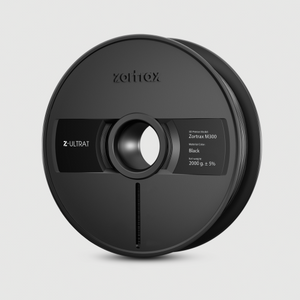 Zortrax Z-ULTRAT 3D Printer Filament - 2kg Spool for M300/M300 Plus/M300 Dual - 1.75mm
Z-ULTRAT is enhanced ABS material, designed for strength, durability, and versatility.
Z-ULTRAT 3D printer filament is an ABS-based plastic blend unique to Zortrax Ecosystem, designed to reliably achieve properties found in items manufactured unsing injection molding technology. . Engineered by Zortrax for durability and excellent surface quality, Z-ULTRAT material is ideal for projects that require the best quality results. Use Z-ULTRAT for functional prototypes, end-use parts, or to 3D print finished consumer products. Models 3D printed with Z-ULTRAT will last longer than those made of standard ABS. Z-ULTRAT 3D printing material is resistant to high temperatures and impacts, and its exceptional hardness allows you to test models in real life conditions.
Z-ULTRAT features:
High durability - Z-ULTRAT is an impact resistant material that is resistant to high temperatures and features outstanding hardness, making it ideal for 3D printing prototypes for testing in the field.
End-use quality - Z-ULTRAT is an ABS-based plastic material, so you don't have to compromise surface quality for physical properties. Use acetone and mechanical post-processing to turn 3D printed objects into stunning showcase models.
Easy to post process - Z-ULTRAT is suitable for mechanical post-processing, as well as smoothing with an acetone vapor bath, so it's perfect for short-run production of consumer products and specialized tools.
Zortrax Z-ULTRAT Technical Data Sheet
---
We Also Recommend
QUESTIONS & ANSWERS
Have a Question?
Be the first to ask a question about this.
Ask a Question