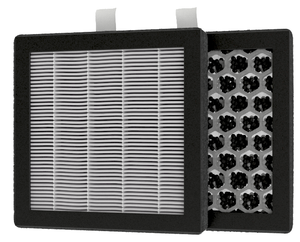 Zortrax HEPA Top Cover Replacement Filters - Fits M200 & M300 Models - Set of 3
Set of three replacement HEPA and carbon filters for Zortrax HEPA top covers.  The replacement filters fit both the M200 and M300 HEPA top covers.  Zortrax recommends replacing both filters every 4-6 months.
---
We Also Recommend
What are the complete dimensions of both filters? L x W x Depth for the hepa and carbon filter

Hello, both the Carbon and the Hepa Filter measure 3  3/4" x 3  3/4". The Carbon Filter is 3/8" thick, the Hepa Filter is 3/4" thick. Hope this helps.