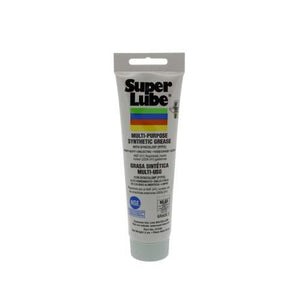 Super Lube Multi-Purpose Synthetic Grease With Syncolon (PTFE) - 3D Printer Lubricant - 3 oz Tube
Profound3D recommends this Super Lube multi-purpose synthetic grease for lubricating the rails and Z-screws in 3D printers.  It's compatible with most other lubricants, has excellent adhesion, and outlasts conventional greases by 3-4 times.  Not only is Super Lube great for 3D printers, it works well for a variety of other applications, like greasing o-rings and gaskets to keep them from drying out, squeaky hinges, automotive applications, and so much more.  Keep a tube around the workshop, office, and house.
Super Lube Features:
NLGI Grade 2 lubricant
NSF (H1) registered (acceptable as a lubricant with incidental food contact)
Temperature range = -43 - 232℃ (-45 - 450℉)
---
We Also Recommend
Can Super Lube Multi-Purpose Synthetic Grease be used to lubricate shower valve cartridges?

We use Super Lube on 3D printers, but I don't see why it wouldn't work well with shower valve cartridges.