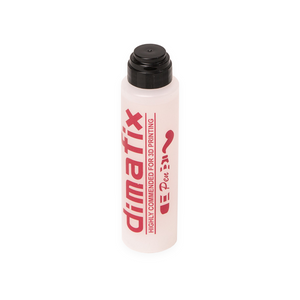 Dimafix Pen - 3D Printing Adhesive
Apply Dimafix 3D printer fixative to your print surface to prevent lifting and warping
Dimafix creates a strong bond between plastic and glass to prevent 3D printed models from lifting or warping off the print surface, even when using difficult materials like ABS.  Dimafix's adhesive properties activate when the build platform temperature is higher than 50ºC and get strongest at temperatures at or above 95ºC. Even large models with complex geometries stick to the plate with Dimafix.  When the bed cools to room temperature, Dimafix is no longer adhesive, making model removal easy.  Dimafix is water soluble, so cleanup is easy too.
Each Dimafix Pen contains 90ml of adhesive, which is normally enough for about 100 uses.
Shake well before use.  Apply to print bed at room temperature.
Dimafix Use Zones - Print Bed Temperature
0 - 60ºC - weak adherence, objects are easily detached from the plate
60-75ºC - average adherence, recommended for simple geometries
75-95ºC - high adherence, recommended for complex geometries and long lasting prints
Over 95ºC - very high adherence, for very complex geometries and very lengthy prints 
---
We Also Recommend
QUESTIONS & ANSWERS
Have a Question?
Be the first to ask a question about this.
Ask a Question