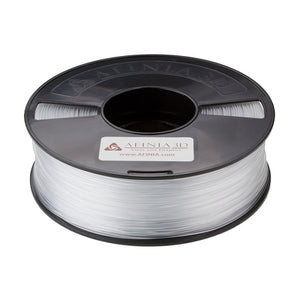 Afinia Value-Line Transparent 1.75mm ABS Filament for 3D Printers - 1kg Spool
In 3D printing circles, the Afinia name is highly trusted. Known for its fully assembled, user-friendly H-Series 3D printers, Afinia has introduced its own value line of 3D printer filament. Just as you would expect, Afinia value-line 3D printer filament is a high-quality product at a reasonable price.
Afinia value-line filament will work with the Afinia H-Series, as well as a variety of other 3D printers, including Reprap, MakerBot, UP!, PrintrBot, MakerGear, Solidoodle, Ultimaker and other 3D printers that work with 1.75mm ABS filament. Afinia manufactures its value-line 3D printer filament to strict specifications, so you get a great performance from your 3D printer and avoid extruder nozzle problems caused by some inferior filament. Afinia value-line filament extrusion temperature range is 210-250°C.
Color: Transparent
Material: Acrylonitrile Butadiene Styrene (ABS)
Weight: 1 kg (2.2 pounds)
Diameter: 1.75mm
---
We Also Recommend
QUESTIONS & ANSWERS
Have a Question?
Be the first to ask a question about this.
Ask a Question