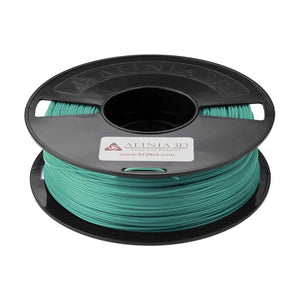 Afinia Value-Line Color Changing 1.75mm ABS Filament for 3D Printers - 1kg Spool
Add novelty to your 3D printed models with this color changing filament from Afinia. Models printed using Afinia color changing feature filament which appears grey at cooler temperatures and change color to white at warmer temperatures, as well blue/green to yellow/green.
In 3D printing circles, the Afinia name is highly trusted. Known for its fully assembled, user-friendly H-Series 3D printers, Afinia has introduced its own value line of 3D printer filament. Just as you would expect, Afinia value-line 3D printer filament is a high-quality product at a reasonable price.
Afinia value-line filament will work with the Afinia H-Series, as well as a variety of other 3D printers, including Reprap, MakerBot, UP!, PrintrBot, MakerGear, Solidoodle, Ultimaker and other 3D printers that work with 1.75mm ABS filament. Afinia manufactures its value-line 3D printer filament to strict specifications, so you get a great performance from your 3D printer and avoid extruder nozzle problems caused by some inferior filament. Afinia value-line filament extrusion temperature range is 210-250°C.
---
We Also Recommend
QUESTIONS & ANSWERS
Have a Question?
Be the first to ask a question about this.
Ask a Question