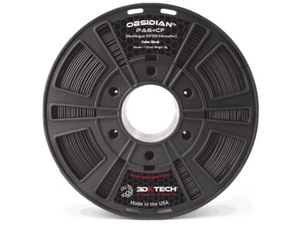 3DXTech Obsidian PA6+CF [Markforged Onyx Alternative] Filament - 1kg
Obsidian PA6+CF is an excellent drop-in replacement for Markforged Onyx and is compatible with all Markforged printers. Obsidian delivers excellent performance, appearance, and significant cost savings.
OBSIDIAN PA6+CARBON FIBER
Obsidian PA6+CF filament was formulated to be a low-cost drop-in Markforged Onyx alternative and is compatible with all Markforged Printers. 3DXtech developed this material after extensive analysis and testing — the result was a seamless printing experience and filament that produces parts with an outstanding appearance and excellent mechanical properties.
Made using Premium high-modulus carbon fiber and PA6 copolymer, Obsidian is an excellent alternative to Onyx.
Don't have a Markforged printer? No problem! Obsidian is also compatible with all non-Markforged printers that are capable of printing with PA6+CF!
BENEFITS OF OBSIDIAN PA6+CF:
Drop-in for Onyx without any changes required to print settings
>30% savings vs. Markforged Onyx
Excellent strength and stiffness
Resistant to aliphatic hydrocarbons (oil/gas/lubricants)
Superior dimensional stability (low warp/shrink/CTE)
Compatible with Markforged FX20, X7, X5, X3, Mark Two, Onyx Pro, and Onyx One printers
TECHNICAL SPECIFICATIONS:
Extruder: 265-285°C
Bed Temp: 90-110°C
Nozzle: We currently recommend a hardened steel nozzle
Bed Prep: Magigoo
Heated Chamber: Recommended
Drying Instructions: 90°C for 4 hours if the filament exhibits signs of moisture
---
We Also Recommend
QUESTIONS & ANSWERS
Have a Question?
Be the first to ask a question about this.
Ask a Question