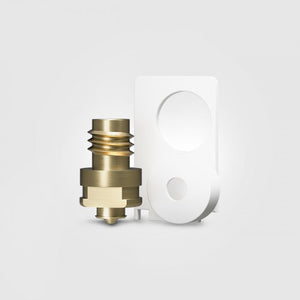 Nozzle Set for Zortrax Inventure & Zortrax M300 Dual
This nozzle set includes two nozzles, two teflon nozzle caps, and two hotend covers for the Zortrax Inventure  and Zortrax M300 Dual 3D Printers.
Affordable replacement nozzles (2) for my M300 Dual
Since purchasing my M300 Dual almost 3 years ago, I have accumulated about 1750 hours of total print time. Over half that time was spent printing Z-glass and Z-PETG for table lamps, car door handles, and ceiling light fixtures. Both of these plastics have a tendency to clog nozzles. I try to immediately clean the nozzle each time by printing with Z-UltraT for a bit (the ABS trick). I used up 3 or 4 nozzles in 600 hours before learning that cleaning trick. So, I've gotten a bunch of print hours since then. But eventually, the nozzle will still clog, as mine recently did. So, it was great to buy some replacement nozzles to get back to printing...
There are 2 per PKG
Was surprised to see there were 2 in each Package at that price.
Haven't needed them yet, just security in case something happens on a weekend.
---
We Also Recommend
Can you pick which nozzle size?

Hello Hans,
Only the plus series Zortrax printers give you the option of selecting a size other than the standard .4mm nozzle. The 300 Dual uses the standard .4mm. However Zortrax has just added 0.6 steel nozzles and 0.6 brass nozzles for M Series Plus and M300 Dual 3D printers to the range of our products.