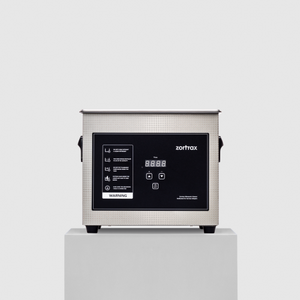 Zortrax Ultrasonic Cleaner - Autmatically Removes Excess Resin from 3D Prints
The Zortrax Ultrasonic Cleaner uses high frequency sound waves and isopropyl alcohol to automatically clean excess resin from models that are 3D printed with the Zortrax Inkspire 3D printer, or other 3D printers that use liquid resins.  When 3D printing with liquid resin, excess resin must be fully removed from the surface of the model prior to curing.  Failing to clean the model of excess resin can negatively affect the appearance and quality of the finished model.
Using the Ultrasonic Cleaner is easy.  Fill its tank with isopropyl alcohol, put the model in the tank, close the lid, and turn on the device.  Cleaning typically takes no longer than three minutes.  Let the model dry, and it's free of excess resin and ready for curing.
Zortrax Ultrasonic Cleaner Specifications:
Tank dimensions = 240 x 135 x 100 mm (9.5 x 5.3 x 3.9 in)
Maximum tank capacity = 3.2 L  (108.2 oz)
Material = Stainless steel
Time control = 0-30 min.
Ambient operation temperature = 20–30˚C (68–86˚F)
Storage temperature = 0-35˚C (32-95˚F)
 Weight and physical dimensions

Device (W x D x H) = 250 x 150 x 230 mm (9.8 x 5.9 x 9.1 in)
Shipping box = 330 x 250 x 315 mm (12.9 x 9.8 x 12.4 in)
Net weight = 3.3 kg (7.2 lb)
Shipping weight = 5.5 kg (12.1 lb)

Maximum power consumption =120W
Frequency = 40 KHz
---
We Also Recommend
on average about how many models can you fit into the 3.2L ultrasonic?

The Zortrax Ultrasonic Cleaner's tank dimensions are 9.5" x 5.3" x 3.9" so the number of models you can fit in the cleaner varies greatly, because it depends on the size of the models.  You may be able to fit 20 or more small models, or only one large model.